The Buransh is a beautiful resort. It has 25 rooms, all of which are ultra-spacious. The suites have full-length glass windows, so guests can enjoy a sweeping view of the majestic Himalayas from every room.
EVERY ROOM SPECIALLY CREATED FOR YOUR COMFORT
The Buransh is a resort with 25 rooms- all ultra-spacious with full-length glass windows, specially designed to give guests a sweeping view of the Himalayas from every room. Each room at The Buransh Retreat is named after a prominent peak of the Kumaon-Garhwal Himalayan range. Every room has distinct furniture, some specially crafted by our creative workforce.
Perched on the topmost floor of the resort, the family suite offers abounding space and stunning views of the comfortably hemmed in the valley.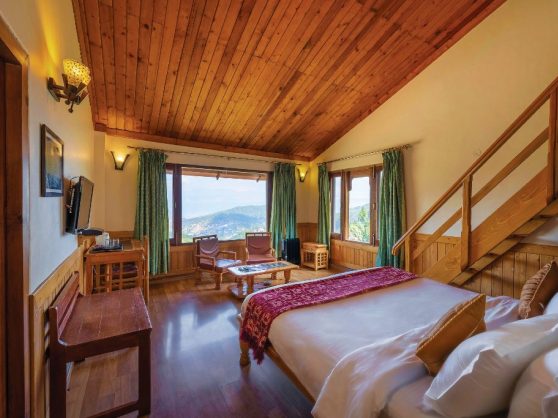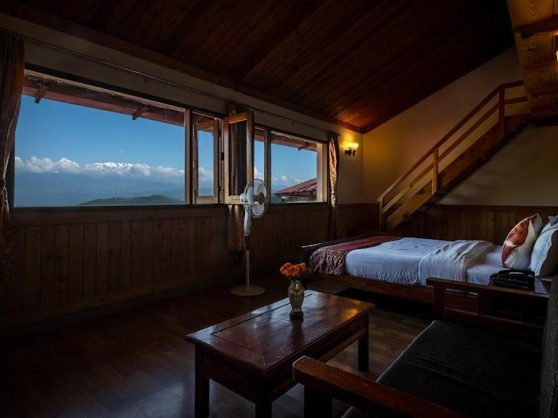 Situated on the upper floor, they overlook the sweep of the Baijnath valley. Some Deluxe suites have windows on two sides for an even better view.
The rooms are on the ground floor and provide a stunning view of the Baijnath valley.
Check out our amazing facilities and services!

Welcome Drink on Arrival (Non-Alcoholic).
You will be awestruck with our evening slideshow on Uttarakhand Darshan.
Bonfire along with DJ will keep you warm in wintry nights.
Half an hour guided hike around

The Buransh Retreat

will make you aware about the local wildlife and the village lifestyle.
Hang around in our books & game café; read some good old books, indulge yourself into a game of carom or chess, and you are set for the day.
For shopping lovers, we offer a wide range of organic extravaganza at our handicraft shop. All the products are sourced from local organizations and artisans, wherein 100% of the profit earned is returned to them.
Complimentary Wi-Fi (24*7) at conference hall, reception, lobby & restaurant.
Overnight trekking & camping to nearby wilderness.
Expansive Conference Hall, 100% power backup, Basic first Aid kit, Parking facility, laundry service, Cab on call.